ACDKOCHI19 - AWS Community Day Kochi 2019 Speaker Announcement - Jiju Thomas Mathew
AWS Users Group Kochi (AWSUGKOCHI) is super excited to have Jiju Thomas Mathew as our speaker.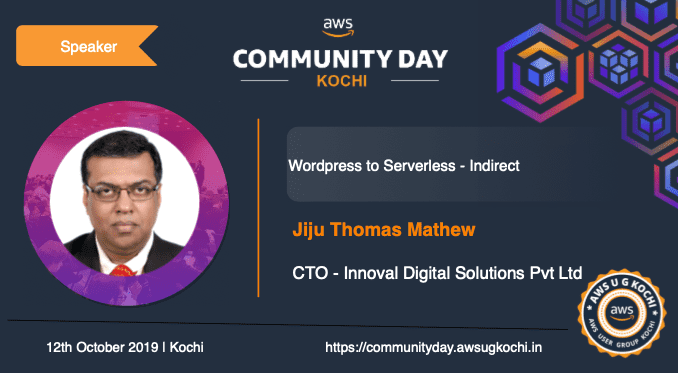 About AWS Community Day - Kochi
AWS Community Days are community-organized cloud education events, featuring technical discussions and demos led by expert AWS users and industry leaders from around the world. AWS community is designed to educate everyone about the AWS platform, architecture best practices and about new innovation. The global AWS ecosystem consists of a range of AWS enthusiasts and advocates who are passionate about helping others build.
To learn more about AWS Community Day Kochi 2019, please visit the Community Day website
It's a great pleasure to have Jiju as a speaker. Let's find out more about the person
Jiju Thomas Mathew
30+ years into IT with recent 8 years on AWS, SysOPS, Cloud Architecting
Active participation in AWSUG BLR
Guest Speaker in various AWS Events
AWS Certified Solutions Architect
AWS Certified Sysops Administrator
Agenda for talk
Wordpress CMS to Serverless - Indirect
Jiju will be walking us through the challanges faced in setting up a corporate WordPress website in AWS
The challenges faced when the corporate website, was moved to S3 + CloudFront
Continuos deployments using Jenkins CI
Resource planning and cost optimization
Capturing e-mails and integrations with Zoho CRM
Secure distribution of demo videos
Video transcoding methods implemented
Piwik.JS + API Gateway + Elastic Search for visitor analytics. .




Interesting in sponsoring the event, or exploring the possibility of presenting at our first community day, please contact info@awsugkochi.in
Join the community
Join the AWSUGKOCHI community - you can find us on our About page
Help us to grow this community, please share this page to your colleagues and friends - Thank you.