AWS Users Group Kochi (AWSUGKOCHI) is super excited to have Laks as our Speaker.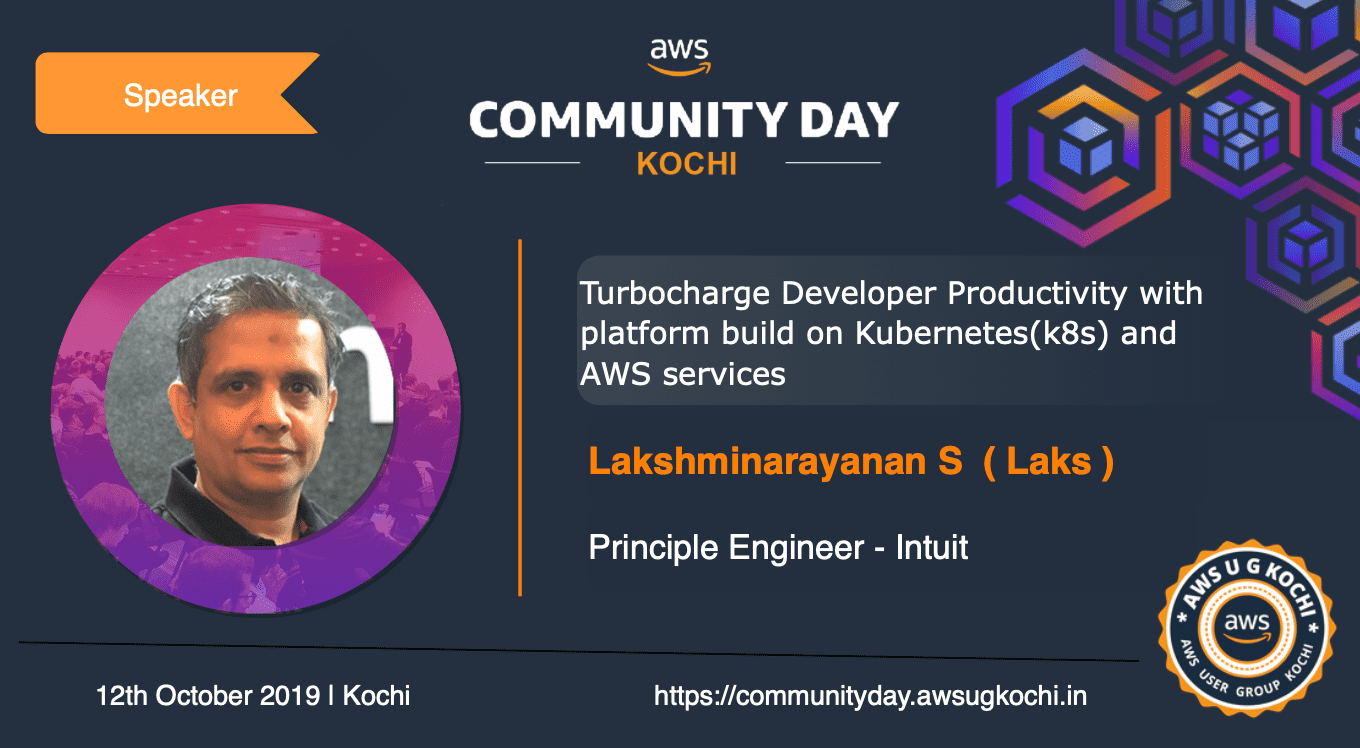 About AWS Community Day - Kochi
AWS Community Days are community-organized cloud education events, featuring technical discussions and demos led by expert AWS users and industry leaders from around the world. AWS community is designed to educate everyone about the AWS platform, architecture best practices and about new innovation. The global AWS ecosystem consists of a range of AWS enthusiasts and advocates who are passionate about helping others build.
To learn more about AWS Community Day Kochi 2019, please visit the Community Day website
It's a great pleasure to have Laks as our speaker. Let's find out more about the person
Lakshminarayanan S
Principle Engineer - Intuit

Laks is currently leading the Intuit Modern SaaS team in IDC, Bangalore, which is building a next generation platform using containers and Kubernetes.

Modern SaaS team works on cutting edge solutions to enable speed and agility to the development experience at Intuit.

Laks' team received "Top End User Award" at KubeCon2019 in Barcelona in recognition of our contributions to the cloud-native ecosystem.

Prior to this role, Laks was leading the AWS migration of Intuit's small business group applications. Laks held various positions in Intuit since 2010.

Laks was working as Senior Engineering Manager in the Small Business Group at Intuit, and was leading the Site Reliability Engineering for Intuit's flagship offering, QuickBooks Online.
Agenda for talk
Turbocharge Developer productivity with platform build on Kubernetes(k8s) and AWS services.
Join this talk to learn about how Laks and his team built a new platform and migrated monoliths to microservices which significantly improved developer's productivity. The developer platform seamlessly integrates continuous integration, delivery, deployment, monitoring and other tools and services, and abstracts infrastructure complexities by implementing organization specific security, compliance and network policies on top of open source Kubernetes(k8s) and AWS services at enterprise scale. Platform runs hundreds of Kubernetes clusters on AWS infrastructure and hosts 1000s of customer facing enterprise services. The K8s clusters were self managed , currently migrated to AWS managed EKS set up.




Interesting in sponsoring the event, or exploring the possibility of presenting at our first community day, please contact info@awsugkochi.in
Join the community
Join the AWSUGKOCHI community - you can find us on our About page
Help us to grow this community, please share this page to your colleagues and friends - Thank you.